WHAT DO MEMBERS RECEIVE?
Our Monthly LEGO Club is 85% cheaper than buying. Members can play with up to $800 of Legos at a time!
1. CHOOSE THE PERFECT PLAN
Bigger plans = more Legos at a time.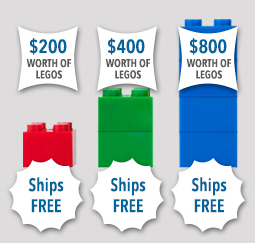 2. SHOP FOR LEGOS
Pick as many sets as your plan allows.
Pick out any LEGO sets you want.
We'll deliver them to your door.
3. PLAY AS ALONG AS YOU LIKE
When you're done, choose new sets.
Keep the LEGO sets as long as you want!
If you get bored, pick out new sets using your budget.
4. SHIP THEM BACK (FREE)
Simple. Easy. No hassle.
Just put everything back in the box.
No charge for missing pieces.
DID YOU KNOW?